...so I probably shouldn't be blogging right now, but has anyone ever known me NOT to throw caution to the wind?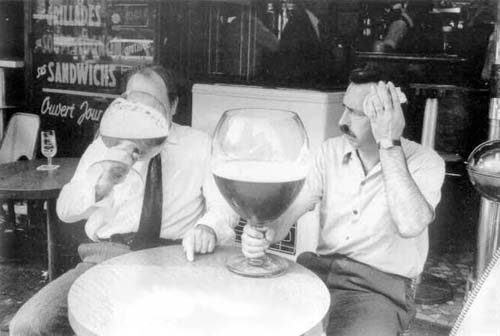 Wine Glasses. That's the topic. Much controversy surrounds the non-stemware I've chosen to serve wine in. Trust me when I say I could go on and on and on and on defending what constitutes a traditional wine glass. I could discredit the merits associated with modern-day stemware easier than deflowering a whore on Mellon Street. Why, I could even make some shit up…which is what I do best. But, since I am, in fact, PMSing and this is going to come out bitchy regardless, I might as well be frank.
1. Wine doesn't make the cut here at The Snug. It's not a big seller, spoilage is redonkerous, and too many of the people who drink wine are A-holes so they're not exactly high on my woo list. (Now, let me be the first to interject that I typically drink wine over all other adult beverages. Am I an A-hole? Who's to say for sure. I don't think so, but then again, I'm not the kind to reject a bottle or complain about a wine glass either. I'm just saying….)
2. Well "1." pretty much sums it up. I serve nice, unchallenging yet drinkable wines at The Snug. You don't need to fill your nostrils with them. You don't need to look for their legs. But they do satiate those who are in the mood for wine while their friends enjoy a beer or cocktail, and they're presented in glasses that are durable, fun, casual, and easy for the lone bartender to clean.
This reminds me of one of my favorite uppity quotes which comes via the old Grannie's Burrito. A patron, when presented with their burrito in a plastic basket with paper napkins,  inquired…do you have cloth napkins? To which the server replied…you're ON Fore Street not AT Fore Street.
Long and short…stop being a snob wanna-be. You're drinking $10-a-bottle wine in a neighborhood pub. Act accordingly.